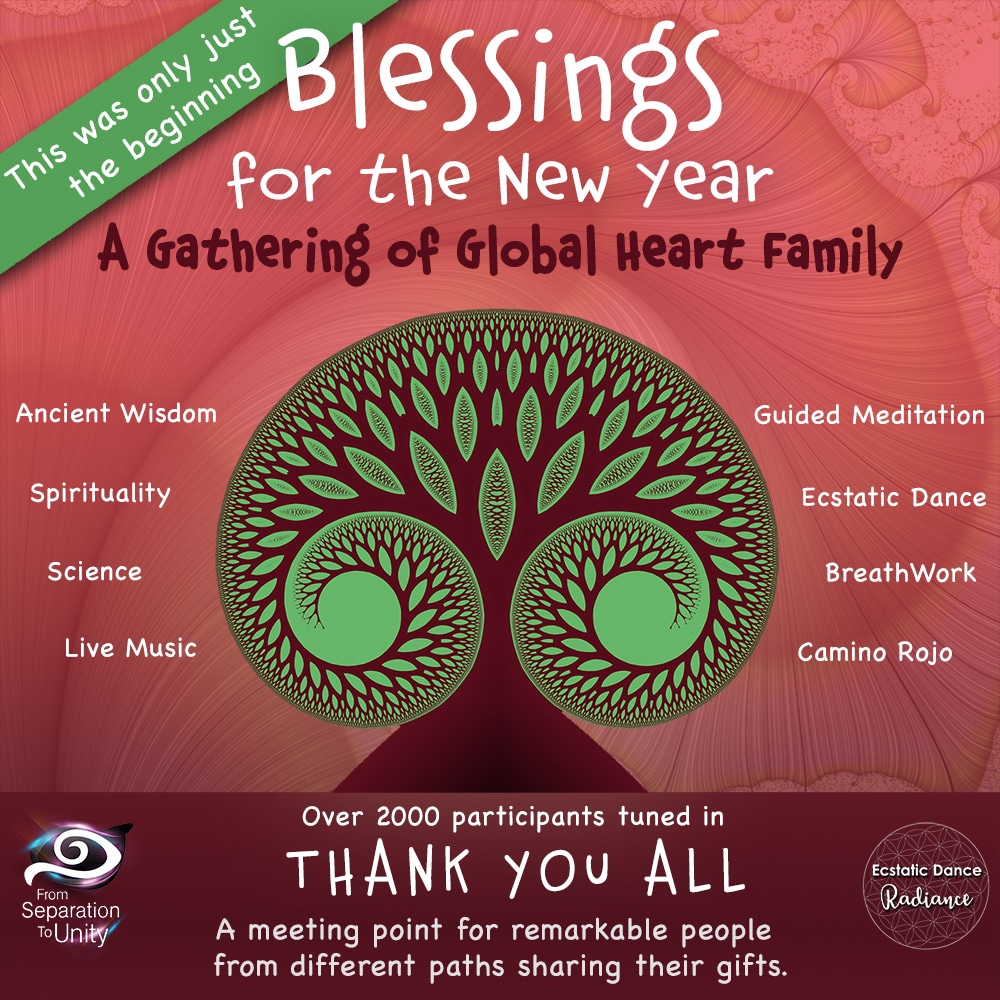 The Blessings Festival Part 2
Dear Heart Family
beloved friends,
from the bottom of our fully nourished, warm, fuzzy hearts, we would like to THANK YOU ALL for your participation in our recent 'Blessings for the New Year' gathering.
It feels still somewhat miraculous that all this came together so beautifully flowing within less than 3 weeks of preparation and a minimal marketing effort, yet full power heart energy from everybody who showed up, shared, presented and received in this space!
We estimate that well over 2,000 participants tuned in over the course of those magical two days – from around the world, united in heart space, together as one family.
Since the closing of this first gathering, we are still receiving many messages every day and there is a sense that this was only just the beginning…
There is also a new website dedicated to the Blessings Gathering/Festival in the making – stay tuned to hear when it's ready!
from the Heart,
FSTU – Ecstatic Radiance Community
Facilitators
Mridu

Facilitator

Mridu has been born in Greece. In 2007 he discovered Meditation, Osho & Alternative Therapies. He fell in love with the conscious way of living and working with people.
He is the founder of the Ecstatic Dance Greece, ED for him is a way to use music & movement as a vehicle to open the body mind and access deeper spaces of consciousness, joy, presence & healing. A beautiful way to transform the individual conditioned human into a holistic individual.

Today Mridu's approach in life is the way of the heart, with meditation, dance & music, living life in the present, moment to moment in it's natural essence and tasting all the different challenges that comes along the way.

He has been trained in different modalities like Osho Meditative Therapies ( Mystic Rose, No Mind, Born Again ), Tantra, Biodynamic Breathwok and Trauma release, From Separation To Unity, Osho Active Meditations, Sound healing and Reiki.

In the summers he lives in Lesvos Island, there he is part of Osho Afroz Meditation Center there he shares workshops & sessions and enjoy the commune life. The rest of the year he is traveling around the world facilitating workshops & sessions between Europe, India, Brazil & China where he meets people with different cultures connecting, playing and evolving with them.