The History of Ecstatic Dance
In the year 2000, Bodhitara – inspired by Vin Marti's Soul Motion – was dancing religiously on Sunday Mornings and making fresh mix tapes each week.  As music and technology advanced, new sounds continued to evolve, and it was Max Fathom who brought dance to the next level at Kalani on the Big Island of Hawaii.  
Fathom was already familiar with Gabrielle Roth's wonderfully complete 5 Rhythms. Yet on his way to Hawaii, he fell in love with the newly conceived electronic music blossoming on the United States's west coast. The music-induced states of being he experienced at the Burning Man festival in Nevada made a lasting impression. 
Over the next 8 years, a new kind of "Ecstatic Dance" was brought to the world.  And with the help of hundreds of Space Holders, Facilitators, & DJs, the community has continued to grow and blossom ever since.
In 2008 Max and Elizabeth left Hawaii to pursue other dreams, but not before handing the torch of Ecstatic Dance to Tyler Blank & his friend DC. Their next step was to ask permission to begin an Ecstatic Dance in Oakland, California, across the Bay from San Francisco.  They put in years of hard work and dedication and eventually created not only a website, graphics, and marketing materials but decided to keep Ecstatic Dance free from Trademarks & Official Training & Franchising. 
The dance floor is a non-verbal space.
At Ecstatic Dance, we join to create a safe and sacred space for dancing. The absence of talking on the dance floor allows us to move out of our heads and into our bodies, hearts, and souls. We leave behind both the words and worries of the day and connect with our spirits and one another through new avenues. It has been created to serve as a safe container, whether we're dancing alone, or with others. 
Ecstatic dance can be seen as a form of moving meditation and a way to connect with the divine within. By dancing with intention and awareness, the dancer can access a more profound sense of spirituality and tap into the universal energy that flows through all things.
In ecstatic dance, the body becomes a vessel for spiritual expression and transformation. As the dancer moves, they connect with the present moment and the energy of the universe, and in doing so, they can experience a profound sense of peace, love, and joy.
The music in ecstatic dance is like a river, guiding the dancer on a journey of self-discovery and transformation. It is a dance of connection, where the dancer can connect with their body, emotions, and the universe's energy.
Ultimately, ecstatic dance is a way to connect with the infinite possibilities within each moment and experience a sense of oneness with all things. It is a way to celebrate the beauty of life, to express gratitude for the blessings that surround us, and to honor the divine within ourselves and others.
Basic Guidelines:
We are dancing barefoot. 
There is no talking on the dance floor.
This is a drug-free, smoke-free, and alcohol-free environment.
No cellphones, photos & videos to keep us present in the dance. ( keep cellphones on the side for these 2 hours and enjoy )
Remember, we're dancing to feel good, not to look good.
No judgment. We are all on our own personal journeys. Move your body however you wish.
Have awareness of the space around you and respect the boundaries of others.
You can dance alone, or with as many partners as you'd like. (If you'd rather not dance with someone, thank them for the offer by placing your hands in prayer position at your heart – Namaste.)
Ecstatic Dance is a community gathering that encourages freedom and expression through dance. Join us and experience a safe and inspiring space to dance without talking, alcohol consumption or the general nightclub vibe. This is about self-expression, freeing your body and mind, and connecting with yourself and those around you. No booze, no shoes and no chit-chat on the dance floor helps us to maintain awareness. Amazing music helps us to keep it all about dance!
Ecstatic Dance empowers people from all walks of life to express themselves freely, regardless of shape, size or background. The liberating atmosphere creates a melting pot of acceptance, while the fearlessness with which people move gives newcomers the courage to dance without inhibition.
Over the last decade, this movement continued to spread, and you can now find Ecstatic Dances happening in almost every major city worldwide. Empowered by the Love of Dance, the Simple & Pure Guidelines, and the Open Source Dance Technology. As it continues to increase in both frequency, location, and number of dancers attending, we will continue to discover ways of diving deeper into the practice of Freeform Dance, Ceremony, and Community together.
About Mridu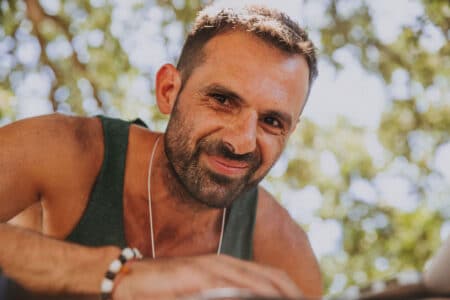 Mridu Pavlos Kriarakis is the creator of "Ecstatic Radiance" a community healing movement. He is one of the pillars of sharing and spreading the Ecstatic Dance Movement in Greece. He lives and works by facilitating work for human growth and trauma healing.
His story starts in the '90s when as a teenager back in the early 90s was spending his pocket money on purchasing vinyls of the early electronic rave scene. Later on, got fully involved in the electronic rave scene by DJing & organizing underground parties in secret locations around Greece and the Balkans. As he went deeper into the underground scene, he also tasted all kind of different drugs that were provided at that time. He did that as an experimentation of listening, dancing, and trying to see what all these illusions were.
Years after, he finds himself burned out from the use of substances. At that time, he looked for healing and something higher, deeper without substances; there he met meditation through the Indian mystic Osho in 2006. He received the name Mridu Prem ( Tender Heart ). Since then, he has worked on healing himself and growing spiritually with dedication and love to one cause that was always there for him, even without being aware—the unconditional care for humanity and individuals. Since then, he has been trained in many modalities like FSTU Heart Consciousness, Breathwork, Energy Healing, Tantra, NLP, Meditative Therapies & Meditation, Conscious Movement, and more. He uses today all these tools to support individuals. 
Last but also a significant need to mention the names of Kaifi, Creator of FSTU and brother in all these creations, but also Maria Tsangaraki & Junion X (Ecstatic Dance Athens) sharing Ecstatic Dances with love and dedication in Athens.