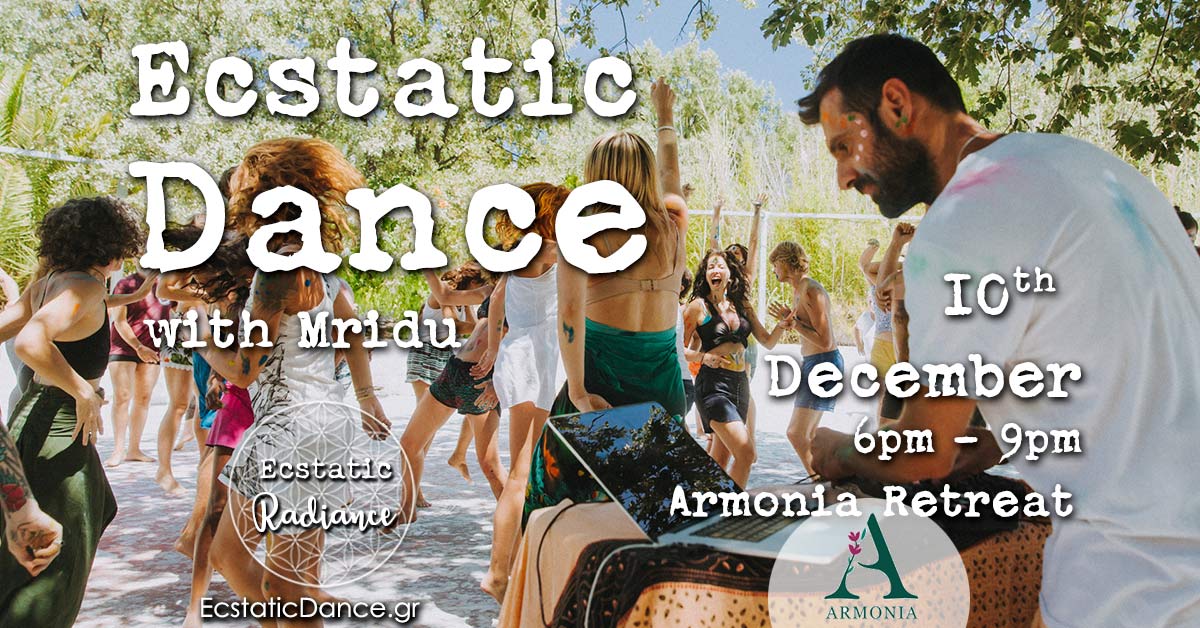 Ecstatic Dance with Mridu @ Armonia Retreat, Douliana – Chania
Ecstatic Radiance – Community Healing Movement Invites you !!!
ECSTATIC DANCE with Mridu @ Armonia Retreat Center.
Ecstatic Dance & Opening Circle Movement & Breath Session with Mridu.
Schedule
SATURDAY 10 DECEMBER 2022
18:00 – 18:30 Door Open & Warm Up
18:30 – 18:50 Opening Circle Movement & Breath flow w/ Mridu
18:50 – 20:50 Ecstatic Dance w/ Mridu
20:50 Closing Circle
21:00 End
💡 Participation is on contribution; pay as you feel (suggested price 10 – 15€).
🐰 The Event is family-friendly kids and younger dancers are most welcome
Location: Armonia Retreat & Workshop Center, Doouliana, 73008
Map: https://goo.gl/maps/gNL1YSNM96xjDdaJ8
🔥 About Ecstatic Dance
Ecstatic Dance is a community gathering that encourages freedom and expression through dance. Join us and experience a safe and inspiring space to dance without talking, alcohol consumption or the general nightclub vibe. This is about self-expression, freeing your body and mind, and connecting with yourself and those around you.
Ecstatic Dance empowers people from all walks of life to freely express themselves, regardless of shape, size or background. The liberating atmosphere creates a melting pot of acceptance, while the fearlessness with which people move gives newcomers the courage to dance without inhibition.
🔥 About Mridu
Mridu is the founder of Ecstatic Radiance.
He is an enthusiasm of life. He is a Dj, Facilitator & Therapist working with people in different modalities. His vision is holistic humanity where we humans can live & care for oneself and the other. In his Ecstatic Dances, he shares his soul's heart, and he also gets wild and dark to explore all different sides of human consciousness.
Ecstatic Radiance – represents a Community Healing Movement, inviting friends to co-create and share the gift of healing & growth with different modalities and ways.
https://bio.site/mridu
FB: https://www.facebook.com/mridu.mix
Insta: https://www.instagram.com/mridu.mix/
listen to Mridu's sets: https://soundcloud.com/ecstaticdance-radiance
✅ Bring with you:
@ Bottle of Water
@ Second T-shirt
@ Loose clothes for dance
See you on the Dance-floor
💥 Ecstatic Radiance – Community Healing Movement
❗️insta: https://www.instagram.com/ecstaticradiance/
❗️FB: https://www.facebook.com/ecstaticradiance
🎶 SoundCloud: https://soundcloud.com/ecstaticdance-radiance
Facilitator
Mridu

Founder of Ecstatic Radiance

Mridu was born in Greece; as he grew up, he became a Dj & web designer. In 2007 he discovered Meditation, Osho & Alternative Therapies and decided to change his life. He fell in love with the conscious way of living and working with people.

He is the founder of Ecstatic Dance Radiance; he calls his version of Ecstatic Dance "FSTU Resilient Movement", a compilation of FSTU Heart Guided meditation that transitions into slow movement and flow into an Ecstatic Dance Session.

He is a Mentor & Trainer of (FSTU) From Separation To Unity – Heart Consciousness Evolution, a healing system that arose intuitively and aligns with the latest scientific research into Heart Consciousness.All his work effort comes down to a single line of using different modalities as a vehicle to open the body/mind and access deeper spaces of consciousness, joy, presence & healing. A vision & a way to transform the individual conditioned human into a holistic, conscious being.

He has been trained in Osho Meditative Therapies ( Mystic Rose, No Mind, Born Again ), Existential Tantra, Biodynamic Breathwork BBTRS, Osho Active Meditations, Sound Healing, and he is a Reiki Master.