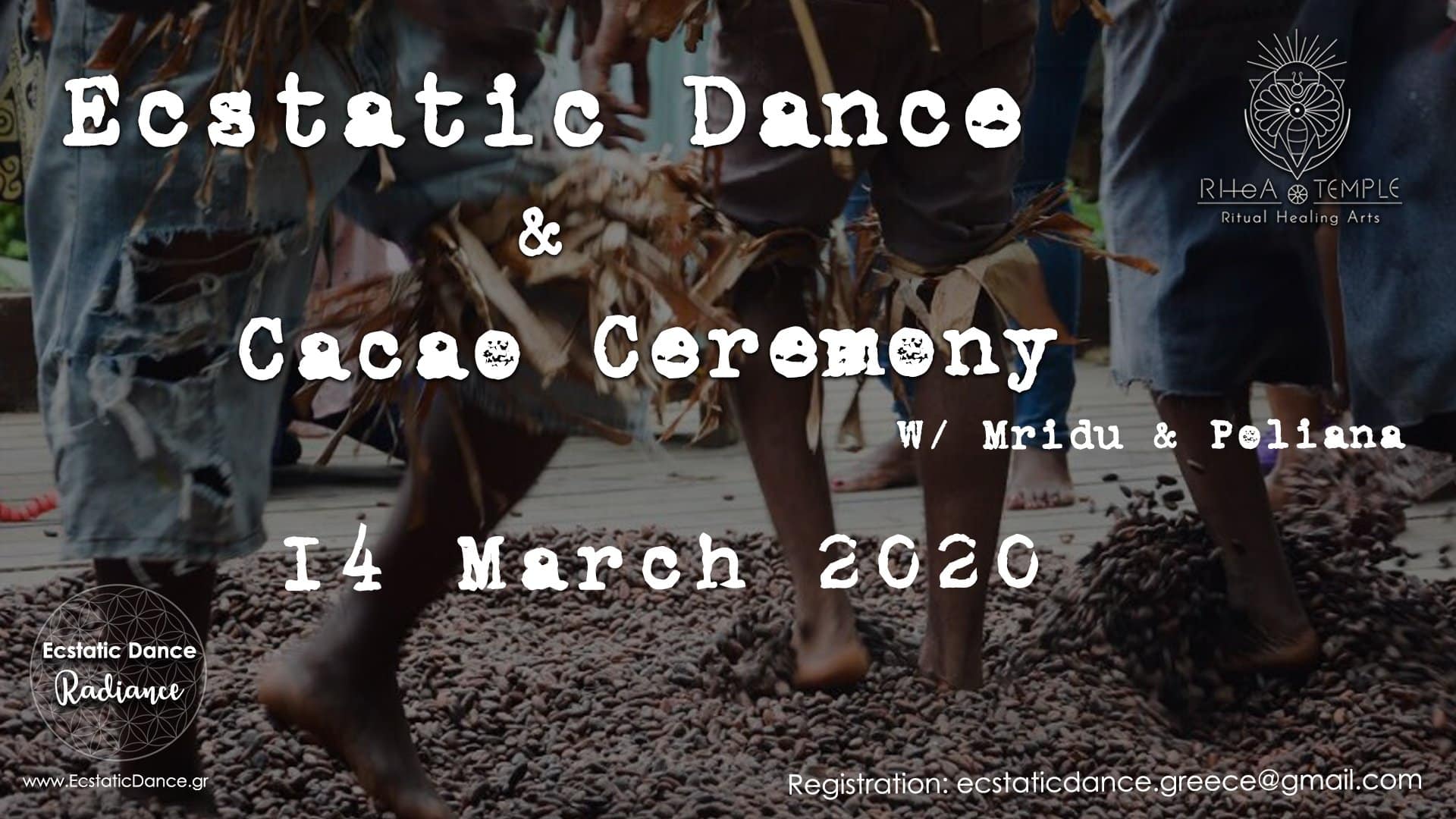 Ecstatic Dance & Cacao Ceremony w/ Mridu & Poliana
Dear friends,
We invite you to the Ecstatic Dance & Cacao Ceremony event in Athens organized by the Ecstatic Dance Radiance team supported by RHEA Temple, Ritual Healing Arts.
We will start with a Cocoa ceremony. We will all drink Cocoa from Organic Harvest at a ceremony that will be led by Poliana. The purpose of this practice is to connect us through the heart and restore the balance of energies in the body to restore health to multiple levels. Mridu will then take us on an Ecstatic Dance in which motion and stillness alternate as the energy of our music drives us. By choosing music from around the world, it creates the space for us to let go, beyond the mind, allowing our spirit and body to enter into an ecstatic, meditative, healing state.
WHEN ?
Saturday 14 March
Warm up music starts at: 18:30
Opening circle & Cacao Ceremony: 19:00 – 20:00
Ecstatic Dance 20:00 – 22:00
WHERE ?
Address:
Nakou 4
MAkrigianni Area / Akropoli
11743, Athens
Transportation:
Metro: Akropoli or Sigrou FIX
Tram: Vouliagmenis Ave.
Buss station less than 100m:
Α2, Α3, Β2, 1, 5, 10, 15, 040, 227, 165, 230, 550, 790, 856
Contribution 15 Euro
To know how much Cocoa to prepare a reservation is a must.
Reserve your place by sending an email at: ecstaticdance.greece@gmail.com
What is Ecstatic Dance:
At Ecstatic Dance, we join together to create a safe and sacred space for dancing, expressing ourselves, and expanding in a conscious way. No talking on the dance floor allows us to move out of our heads and into our bodies, hearts, and souls. We leave behind the words and worries of the day and connect with spirit and one another in new, more real ways. It is designed to be a safe container, where you can dance alone or with others.
Mridu will be holding the space and DJing, taking us on a beautiful journey with a mix of Downtempo, deep bass-lines, world, tribal, Nature Organic & electronic music & sounds.
Mridu shares his love for music and meditation through his Ecstatic Dance Sessions. Ecstatic Dance is a music journey, with movement and stillness alternating as the energy of the music takes you up & down, inside and out. Selecting and djing music from all over the world he creates the space for the individual to let go of the mind. Allowing the spirit in tune with the body to arise into an Ecstatic, Meditative and Healing state. He shares ED in Greece, India & Brazil.
Ecstatic Dance is Drug & Alcohol Free, with a Conversation Free Dancefloor.
Ecstatic Dance is a blend of the two worlds of Conscious Dance & DJ Culture.
What you make of it…
a freeform movement space where:
#dance expands,
#spirit activates,
#boundaries melt,
#boredom ceases,
#creativity breaks out,
#hope happens,
#beauty flows,
#communities collaborate,
#ritual is reinvented,
#harmony resonates and
#beat deepens as an electronic tapestry of world rhythms weave us together as individuals within a greater family.
@@@@@@@@@@@@@@@@@@@@@@@@@@
Ecstatic Dance principles:
1. Move however you wish
2. No talking on the dance floor
3. No alcohol or substance use
4. Respect yourself and one another
@@@@@@@@@@@@@@@@@@@@@@@@@@
Don't forget to bring:
@ A bottle of water
@ A hand towel and a t-shirt
@ Come fresh, clean, and with your love for dancing!
@@@@@@@@@@@@@@@@@@@@@@@@@@
FB Event: https://www.facebook.com/events/626311251526211/
We look forward to seeing you on dancefloor 😉