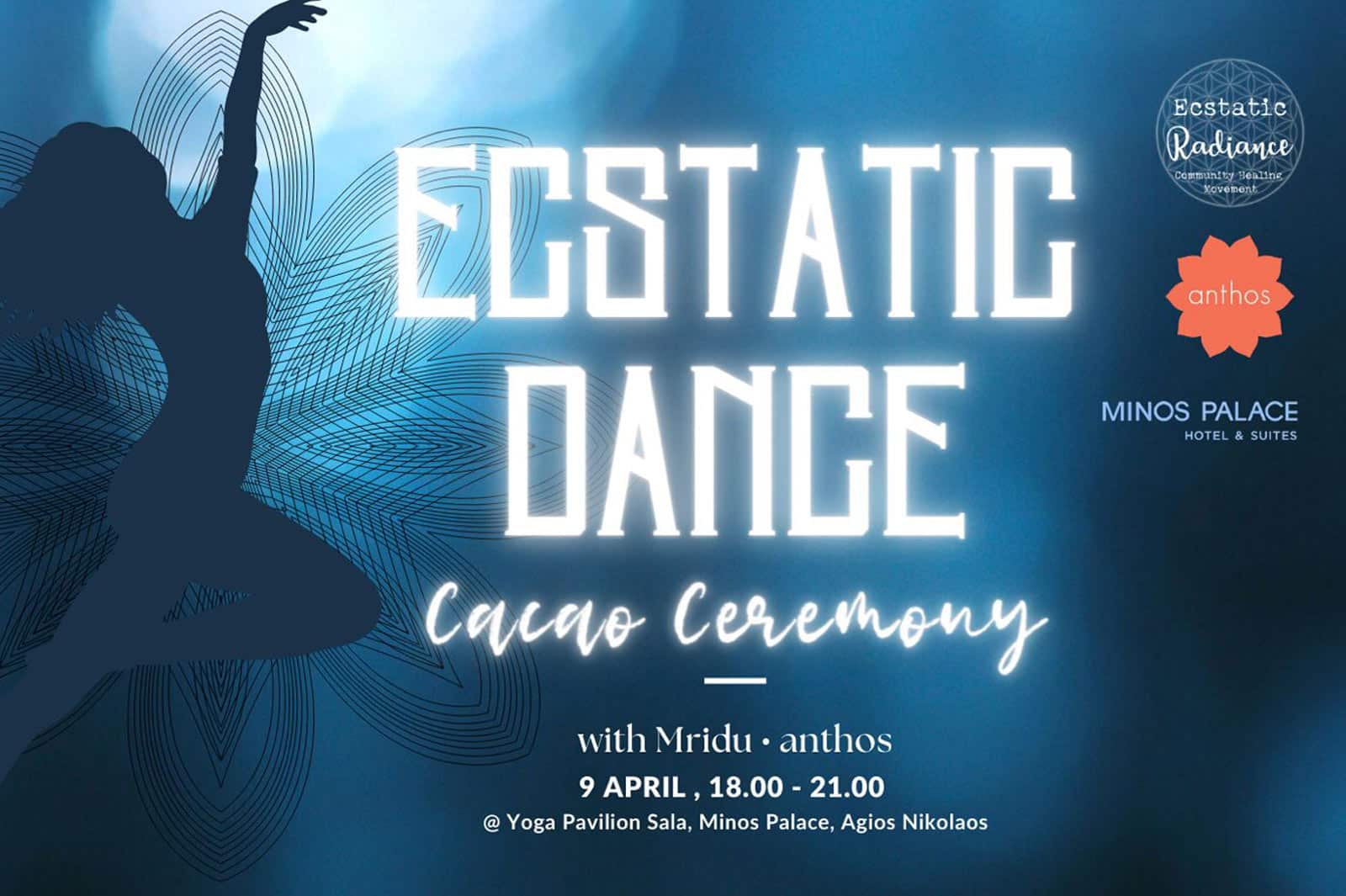 Ecstatic Dance & Cacao Ceremony with Mridu & anthos @ Agios Nikolaos, Crete
Αnthοs Yoga Studio & Ecstatic Radiance invites you to a special event.
💥 Ecstatic Dance & Cacao Ceremony with Mridu & anthos @ Agios Nikolaos, Crete
🕐 Schedule
➡️ SUNDAY, April 9, 2023
🔺 17:30 – 18:00 Doors open for Ecstatic Dance & warm-up
🔺 18:00 Opening Circle & Cacao Ceremony with Mridu & anthos
🔺 18:45 – 20:45 Ecstatic Dance with Mridu
🔺 20:45 Sound Bath with Asimina
🔺 21:00 Closing Circle
📌 Location: Yoga Pavilion Sala, Minos Palace, Agios Nikolaos, Crete
💡 Τιμή 15€
🐰 The Event is family-friendly (kids 11 and younger dance for free!) Always accompanied and supervised by parents.
🔥 About Ecstatic Dance
Ecstatic Dance is a community gathering that encourages freedom and expression through dance. Join us and experience a safe and inspiring space to dance without talking, alcohol consumption or the general nightclub vibe. This is about self-expression, freeing your body and mind, and connecting with yourself and those around you.
Ecstatic Dance empowers people from all walks of life to express themselves freely, regardless of shape, size or background. The liberating atmosphere creates a melting pot of acceptance, while the fearlessness with which people move gives newcomers the courage to dance without inhibition.
🔥 About Cacao Ceremony
The cacao ceremony is one of the oldest holistic healing practices used by indigenous cultures of the Americas, most famously the Mayan culture. The purpose of this practice is to connect participants through the heart and rebalance the energies in the body to restore health on multiple levels.
Drinking cocoa does not cause hallucinations or some psychedelic "out of body" experience. Cocoa is an ancient superfood, with a high concentration of vitamins, magnesium and is a powerful antioxidant. It increases blood flow (oxygen and nutrients) to the brain, as well as causing the release of endorphins that improve our mood. It strengthens the immune system and lowers cholesterol and blood pressure.
Εnergetically creates a meditative state and gently touches the heart, guiding us on an inner journey deep into the emotional center of our body.
Through this beautiful connection, we will enter the musical and dancing journey!
✅ Bring with you:
@ Bottle of Water
@ A personal cup for the cacao (non plastic please)
@ Second T-shirt
@ Loose clothes for dance
See you on the Dance-floor
💥 Ecstatic Radiance & anthos yoga studio
➡️ https://bio.site/ecstaticradiance
Facilitators
Maria anthos

Maria anthos

Maria founded anthos in Crete in 2018, spreading and sharing her passion for yoga and holistic practices. She is a qualified Yoga Alliance Teacher having completed RYT500 Hour.
Following their journey and training in Guatemala, Maria along with her partner Nikos have been offering therapeutic Cacao Ceremonies inspired by the ancient wisdom of the Mayans. During their ceremonies Maria and Nikos play live music with mantras and medicine songs, accompanied by the guitar and other native American instruments. The beautifully healing vibrations of the music combined with the magical effects of Ceremonial Cacao create an experience that awakens all senses. It is a wonderful journey that focuses on opening up the heart space: our emotional center.

https://www.anthos-yoga.com/
https://m.youtube.com/watch?v=mpvO88mBYU4

Mridu

Founder of Ecstatic Radiance

Mridu is the founder of Ecstatic Radiance – a Community Healing Movement. At Ecstatic Radiance, together with friends, he co-creates & shares the gift of healing and self-development. Meditation & awareness is the base of Ecstatic Radiance with an opening to all directions and healing modalities, always with deep respect and love towards any form of life.

He is a Mentor & Trainer of (FSTU) From Separation To Unity – Heart Consciousness Evolution. FSTU is a healing system that arose intuitively and aligns with the latest scientific research into Heart Consciousness.
He was born in Greece; In 2007, he visited the Osho Afroz Meditation Center, where he met a new way of life through Meditation & healing. He fell in love with the conscious way of living and working with people.

All his work effort comes down to a single line of using different modalities as a vehicle to open the body/mind and access deeper spaces of consciousness, joy, presence & healing: a vision & a way to transform the individual conditioned human into a holistic, conscious being.

He has trained in Osho Meditative Therapies ( Mystic Rose, No Mind, Born Again ), Biodynamic Breathwork BBTRS, Tantra, Osho Active Meditations, and Sound Healing, and he is a Reiki Master.