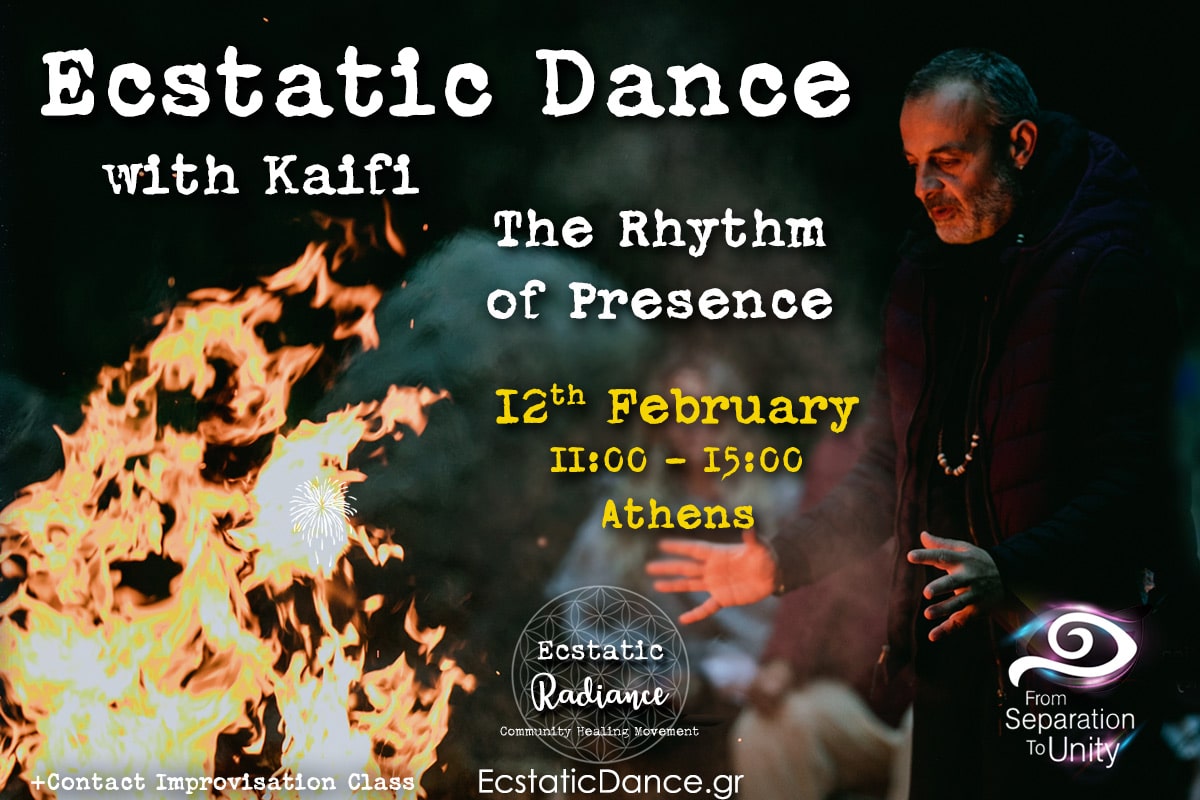 We are sorry to cancel the Ecstatic Dance with Kaifi due to a loss of a relative. We Will see you at our next Event ❤
Ecstatic Dance with Kaifi "The Rhythm of Presence" & Contact Class
💥 There will be a Contact Improvisation Class before the Ecstatic Dance with Marina Tsapekou graduate of the professional dance school Aktina.
🕐 Schedule
➡️ SUNDAY, FEBRUARY 12, 2023
🔺 11:00 – 12:00 Contact Improvisation Class with Marina Tsapekou
🔺 12:00 – 12:30 Doors open for Ecstatic Dance & warm-up
🔺 12:30 Opening Circle "The Rhythm of Presence" FSTU Dance with Kaifi
🔺 13:00 – 15:00 Ecstatic Dance with Kaifi
🔺 15:05 Closing Circle
📌 Location: Case de Arte Kabeiria Irakleidon 74, 10551, Metro Station Kerameikos
💡 Price 15€ for Ecstatic Dance & Price for Ecstatic Dance & Contact Improvisation 20€
Contact and participation at connect@ecstaticdance.gr
❗️(If someone has a financial problem, send us a message connect@ecstaticdance.gr everyone has the right to dance)
🐰 The Event is family-friendly (kids 11 and younger dance for free!) Always accompanied and supervised by parents.
🔥 About Ecstatic Dance
Ecstatic Dance is a community gathering that encourages freedom and expression through dance. Join us and experience a safe and inspiring space to dance without talking, alcohol consumption or the general nightclub vibe. This is about self-expression, freeing your body and mind, and connecting with yourself and those around you.
Ecstatic Dance empowers people from all walks of life to freely express themselves, regardless of shape, size or background. The liberating atmosphere creates a melting pot of acceptance, while the fearlessness with which people move gives newcomers the courage to dance without inhibition.
💥 About Contact Improvisation
Contact is more of a movement experience involving the body and mind in interaction with other people than a dance technique or form. It began to be developed in the early 1970s by charismatic dancers, scholars, and one might say, scientists and philosophers, of movement and life, such as Steve Paxton, Nita Little, Daniel Lepkoff, Nancy Starksmith.
💥 The Rhythm of Presence with Kaifi (FSTU Dance)
A guided movement journey where you can explore how your true essence moves within and through you. By gently allowing and opening up to what's already felt in the body and spirit, you can expand your connection to your own source and the energy field that is infinitely available to you. This can awaken release, acceptance, and a new experience of being in presence.
✅ Bring with you:
@ Bottle of Water
@ Second T-shirt
@ Loose clothes for dance
See you on the Dance-floor
💥 Ecstatic Radiance – Community Healing Movement

 https://www.ecstaticrdance.gr

FB: https://www.facebook.com/ecstaticradiance

Insta: https://www.instagram.com/ecstaticradiance
🎶 SoundCloud: https://soundcloud.com/ecstaticdance-radiance
FB Event: https://www.facebook.com/events/3418378965112451
Facilitators
Marina Tsapekou

Professional Dancer

Marina Tsapekou is a graduate of the professional school Aktina as well as the Department of Philology of the University of Athens (EKPA). The main interest of her practice lately is improvisation and contact improvisation.

She has collaborated with Agni Papadeli-Rossetou, Tzeni Argyriou, Teti Nikolopoulou, Romeo Castelucci, Marina Mascarell, Thanos Papakonstantinou, Penelope Flouri, Ioanna Paraskevopoulou, Amalia Kosmas, Persa Stamatopoulou, Erifuli Dafermou, Androniki Marathaki, Niko Kalyva and others. She has participated as an artist in residency at the festival in Ai Stratis, through Tandem Europa.

Marina has taken part in international festivals (Arlequi, Danseu, ConnectLab) and in numerous seminars in Greece and abroad. He teaches contemporary, improvisation and contact improvisation. He is a member of the collective M54 _ Underscore and the music and dance group Dirty Granny Tales.

kaifi

FSTU Founder

Kaifi Iraklis Kokologiannis, creator of 'FSTU – From Separation to Unity' and co-founder of Oneness Act has been trained in and initiated into many different methods and techniques. He is a licensed HeartMath® Coach & Mentor, a facilitator's trainer of OSHO Meditative Therapies as well as a certified practitioner of DVNLP and Ericksonian Hypnosis.
Programme
For many years now Kaifi has been working with individuals, couples and groups all around the world. The trainings, courses and retreats he facilitates has moved many hearts and continues to inspire and transform people globally, including the Conscious Healing Journey through Life & Death (Die Before You Die – The Art of Let Go)
Inspiration
The main sources of inspiration for Kaifi's work have been his own life experiences and above all his way of living, which has been 'on the edge' for many years. At a certain moment a point of transformation occurred when the concept of 'From Separation to Unity' (FSTU) was born. It's an elegant system of Energy Healing that was created intuitively, yet in complete accord with the latest scientific research on Heart Consciousness. In 2017 Kaifi developed "The FSTU Practitioner Training" for individuals, couples and groups.
Background
Born on the Greek island of Crete, Kaifi has since traveled extensively around the world. He is currently living at and participating fully in all dimensions of the international community, located in the valley of Eresos on the Greek island of Lesvos.
The recent experience (2015) of becoming a father has served as a rediscovery of life and a reawakening of life's amazing qualities!