15 & 16 January 2021 (UTC +2)
This event is free; if you feel inspired you can make a donation.
After registering, you will receive a confirmation email containing information about joining the meeting.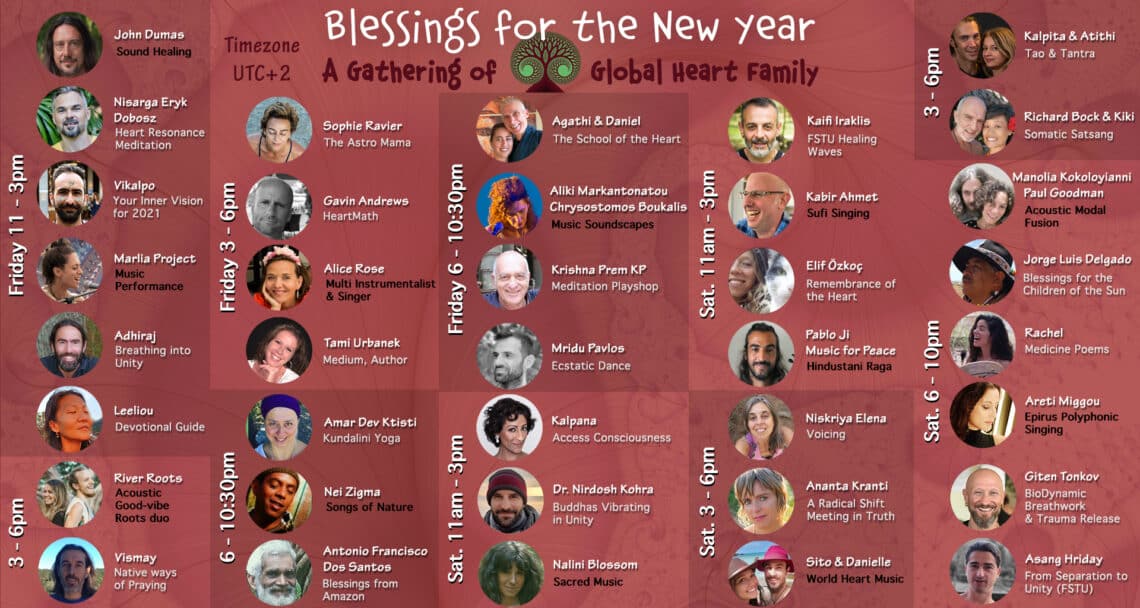 ( Ελληνικά παρακάτω )
We are thrilled to announce the incredible line-up of musicians, healers, shamans & remarkable people from around the world who will be sharing their unique gifts with us over the course of this magical gathering!
You can tune in anytime on Friday 15th and Saturday 16th between 11am – 8pm (UTC+2) to join any of the 20-40-minute long sessions on the same Zoom link or just have it on in the background while you go about your day.
It's a free-flowing event schedule and each of us contributes through their presence, whichever way, to create a blessed energy field for us all and this planet. Join the celebration amongst the brothers and sisters all the way from Latin America to Europe and SouthEast Asia to share and receive!
Register for Free your place on zoom, Here:
Download the full schedule here:
Here and Now!
Με μεγαλη μας χαρα σας ανακοινωνουμε το "Blessings for the New Year – A Gathering of Global Heart Family", μια μοναδική ευκαιρία να λάβουμε και να μοιραστούμε από τα βάθη της καρδιάς μας, με ζωντανή μουσική, καθοδηγούμενους διαλογισμούς, εκστατικό χορό, τραγούδι, θεραπείες και προσευχές από μοναδικους ανθρώπους ανα τον κόσμο.
Μια συνάντηση πολλών μεμονωμένων δρόμων που ενώνονται για να μοιράσουν τα πιο πολύτιμα δώρα τους από διαφορετικά πνευματικα μονοπατια.
Είστε ευπρόσδεκτοι να συμμετέχετε σε αυτή τη 2ήμερη ΔΩΡΕΑΝ online συνάντηση στο Zoom. Περισσότερες πληροφορίες, λεπτομέρειες και οδηγίες για την εγγραφή σας θα ακολουθήσουν συντομα.
Ευτυχισμένο Εδώ και Τώρα!