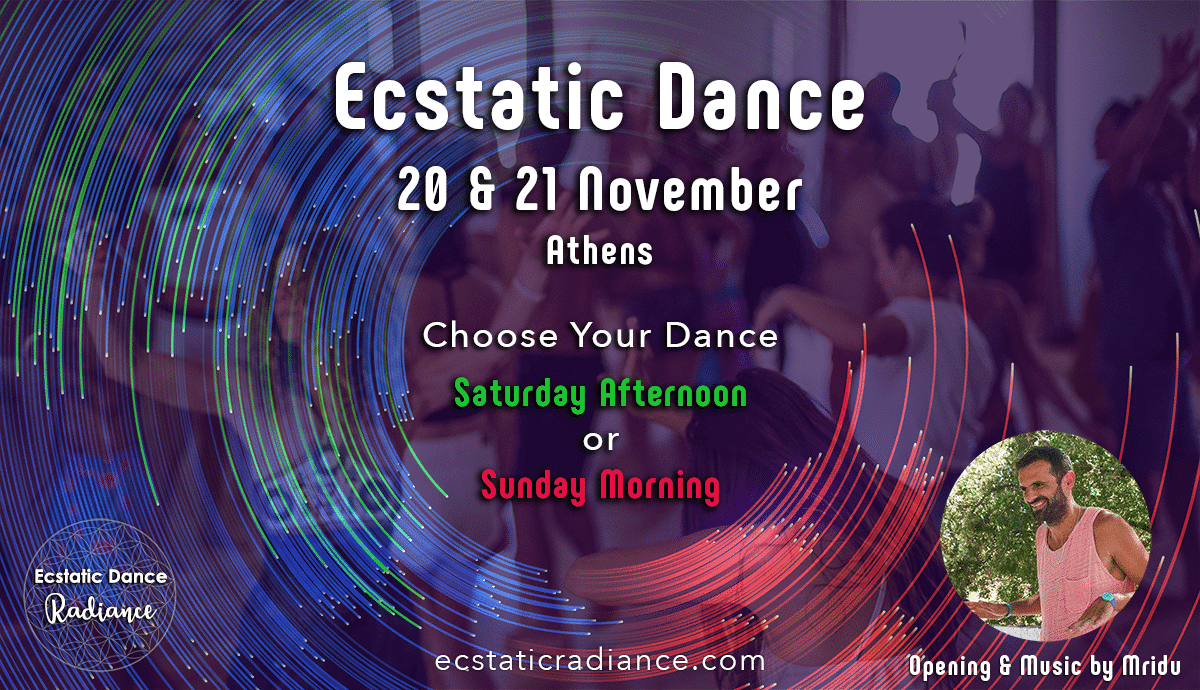 Ecstatic Dance Athens with Mridu
Ecstatic Dance on Saturday 20 November 19:30 with Mridu & the Ecstatic Radiance Team.
Mridu is the co-creator of Ecstatic Radiance, he works in different healing modalities such as Ecstatic Dance, From Separation to Unity (FSTU), Active Meditation, BBTRS Breath, Tantra and more. He has been a dj and facilitator for more than 2 decades sharing techniques that supports the human awakening.
Listen to Mridu: https://soundcloud.com/ecstaticdance-radiance
Location: Case de Arte Kabeiria Ηρακλειδών 74, 10551, Metro Station Kerameikos
You need to register your spot by sending email at info@ecstaticradiance.com
Price €15 – If you have money, please CONSIDER PAYING MORE for your tickets as this will help finance not only the artists and the dance, but also the LOWER PRICED TICKETS.
Please Bring Exact amount.
The lower priced tickets are reserved for people who also need to dance, but cannot afford a regular priced ticket. Everyone should be able to attend movement meditations.
Thank you for supporting dance in these times.
required: 48 hours Rapid or PCR negative covid test, proof of vaccinaction or recovery
Both Events are family friendly event (kids 11 and younger dance for free!)
Events TimeSchedule
Saturday 20 November 19:30 – 22:30
Doors open & Warm Up: 19:30 – 20:00
Opening Circle: 20:00
Ecstatic Dance Mridu: 20:15 – 22:15
Closing Circle: 22:15
End: 22:30
Facilitator
Mridu

Founder of Ecstatic Radiance

Mridu is the founder of Ecstatic Radiance – a Community Healing Movement. At Ecstatic Radiance, together with friends, he co-creates & shares the gift of healing and self-development. Meditation & awareness is the base of Ecstatic Radiance with an opening to all directions and healing modalities, always with deep respect and love towards any form of life.

He is a Mentor & Trainer of (FSTU) From Separation To Unity – Heart Consciousness Evolution. FSTU is a healing system that arose intuitively and aligns with the latest scientific research into Heart Consciousness.
He was born in Greece; In 2007, he visited the Osho Afroz Meditation Center, where he met a new way of life through Meditation & healing. He fell in love with the conscious way of living and working with people.

All his work effort comes down to a single line of using different modalities as a vehicle to open the body/mind and access deeper spaces of consciousness, joy, presence & healing: a vision & a way to transform the individual conditioned human into a holistic, conscious being.

He has trained in Osho Meditative Therapies ( Mystic Rose, No Mind, Born Again ), Biodynamic Breathwork BBTRS, Tantra, Osho Active Meditations, and Sound Healing, and he is a Reiki Master.