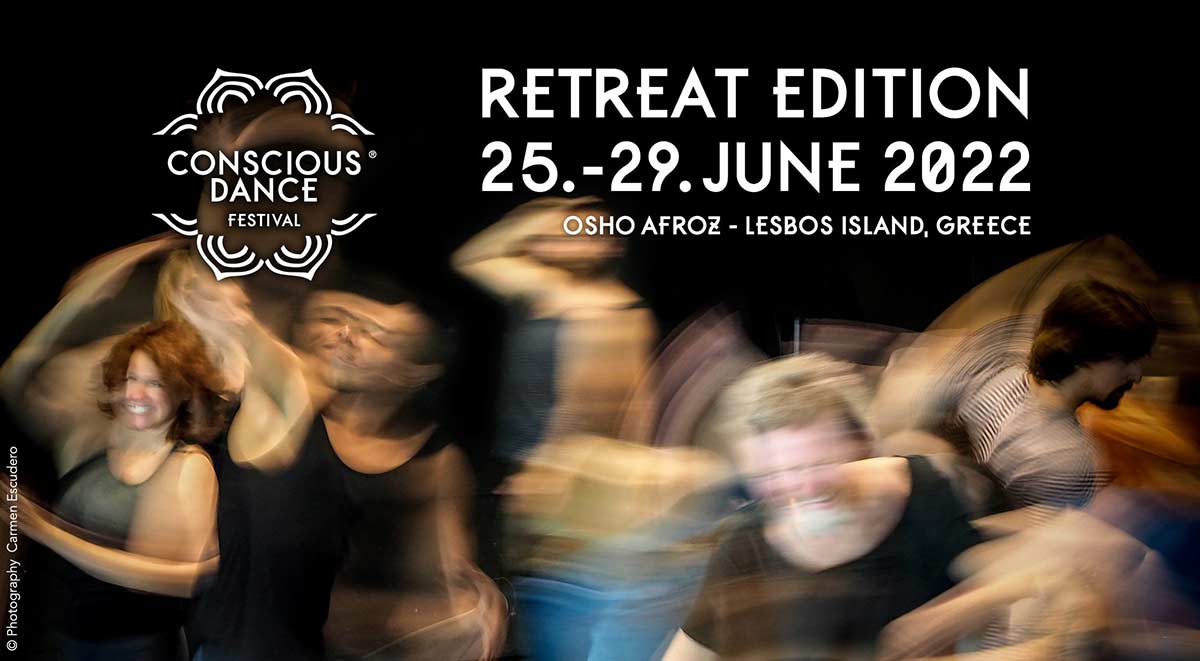 Ecstatic Dance @ Conscious Dance Festival – Retreat Edition
For the very first time the CONSCIOUS DANCE FESTIVAL will be presented as a special retreat edition over five magical days. And to ensure maximum relaxation it will be held at the serene OSHO Afroz Meditation Centre on the beautiful Greek island of Lesvos!
Ecstatic Radiance will be joining CDF festival with Mridu sharing Ecstatic dance along with other facilitators from all around the world.
As a five-days retreat format we will have more space to dive deeper into exploring the uplifting world of conscious dance approaches. Our team of internationally renowned facilitators will provide a diverse program of juicy styles for you to enjoy.
CONSCIOUS DANCE FESTIVAL (Berlin, Barcelona, Lisbon and London) was born from the desire to use movement to reach into the very centre of our being. It is an opportunity to learn about and experience various movement practices that help us get into our bodies and from there, to open up to a more conscious life.
By dancing freely and totally, we allow ourselves to release physical and emotional tensions in a playful and simple way. This creates space for creativity, silence, joy and deep connection to oneself and to life.
The festival presents a diverse program featuring some of the many approaches to conscious movement that have emerged over recent decades, as well as an introduction to the more traditional ones. The careful curation ensures that the workshops feel like a wave of rising and falling energies, so that participants are able to enjoy each aspect to its fullest, without getting fatigued.
Our group of innovative and experienced facilitators create a supportive and nurturing space for you to move into your inner realms. The CONSCIOUS DANCE FESTIVAL is designed as a truly unique and exhilarating experience that will take you on a profound inner journey.
Give yourself the gift of being part of this deeply transformative experience!
This is a festival for everyone. No previous dance nor meditation experience required. All bodies and levels are welcome. Children are allowed on the campus yet not in the workshops.
Facilitator
Mridu

Facilitator

Mridu has been born in Greece. In 2007 he discovered Meditation, Osho & Alternative Therapies. He fell in love with the conscious way of living and working with people.
He is the founder of the Ecstatic Dance Greece, ED for him is a way to use music & movement as a vehicle to open the body mind and access deeper spaces of consciousness, joy, presence & healing. A beautiful way to transform the individual conditioned human into a holistic individual.

Today Mridu's approach in life is the way of the heart, with meditation, dance & music, living life in the present, moment to moment in it's natural essence and tasting all the different challenges that comes along the way.

He has been trained in different modalities like Osho Meditative Therapies ( Mystic Rose, No Mind, Born Again ), Tantra, Biodynamic Breathwok and Trauma release, From Separation To Unity, Osho Active Meditations, Sound healing and Reiki.

In the summers he lives in Lesvos Island, there he is part of Osho Afroz Meditation Center there he shares workshops & sessions and enjoy the commune life. The rest of the year he is traveling around the world facilitating workshops & sessions between Europe, India, Brazil & China where he meets people with different cultures connecting, playing and evolving with them.