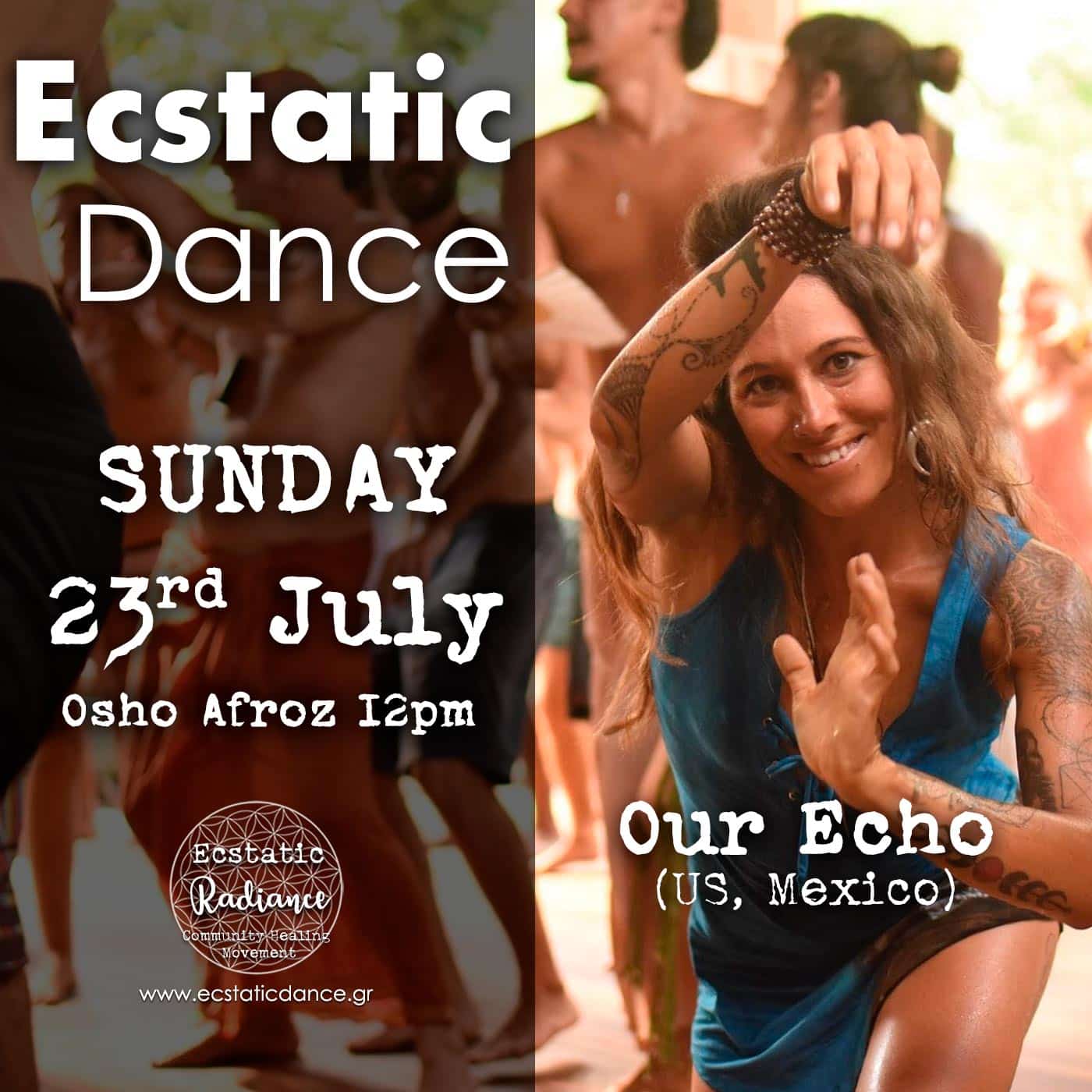 Ecstatic Dance with "Our Echo" (US, Mexico)
Ecstatic Dance @ Osho Afroz Meditation Center, Lesvos Island, Greece.
Presents Our Echo  (US, Mexico)

Echo comes to Lesvos with a love and openness towards new dance and conscious tribe. She brings music from around the world, playfulness and depth. May we descend into the body together and rise in movement, dance and play.
Saturday 22nd July 12:00am
Ecstatic Dance with Our Echo
 Schedule
12:00 – Open door
12:20 – Opening Circle with Echo & Ecstatic Radiance Team
12:50 – Ecstatic Dance with Our Echo
14:50 – Closing
Location:
How to get to Osho Afroz (google maps)
 Contribution 10€ or what you feel
About Ecstatic Dance
Ecstatic Dance is a community gathering that encourages freedom and expression through Dance. Join us and experience a safe and inspiring space to dance without talking, alcohol consumption or the general nightclub vibe. It is about self-expression, freeing your body and mind, and connecting with yourself and those around you.
Ecstatic Dance empowers people from all walks of life to freely express themselves, regardless of shape, size or background. The liberating atmosphere creates a melting pot of acceptance, while the fearlessness with which people move gives newcomers the courage to dance without inhibition.
Ecstatic Dance will be happening at Osho Afroz Buddha Grove, a fantastic space of 300m2 combining Marble & Wood. An area where friends are meditating and celebrated for more than 30 years. A Dance-floor with an Ancient OAK tree at the Center.
How to get to Osho Afroz (google maps)
Facilitator
Our Echo

Our Echo

Music is medicine.
My sets are impromptu selections, and tailored to the emotions surfacing on the dance floor within community. My path through music has been one of personal growth, community, integration and dancing with the shadow. Within my sets you will get glimpses and doses of Latin funk, throbbing bass, ambient strings, tribal drum, conscious floetry, binaural beats and haunting sounds of ancestors and tribe unknown.

Through dance, everyone can discover, unleash, and enhance their individual potential to live a fulfilling and more meaningful life. By engaging our senses and listening to our bodies, we connect to others and shape a consciousness that extends beyond our own.