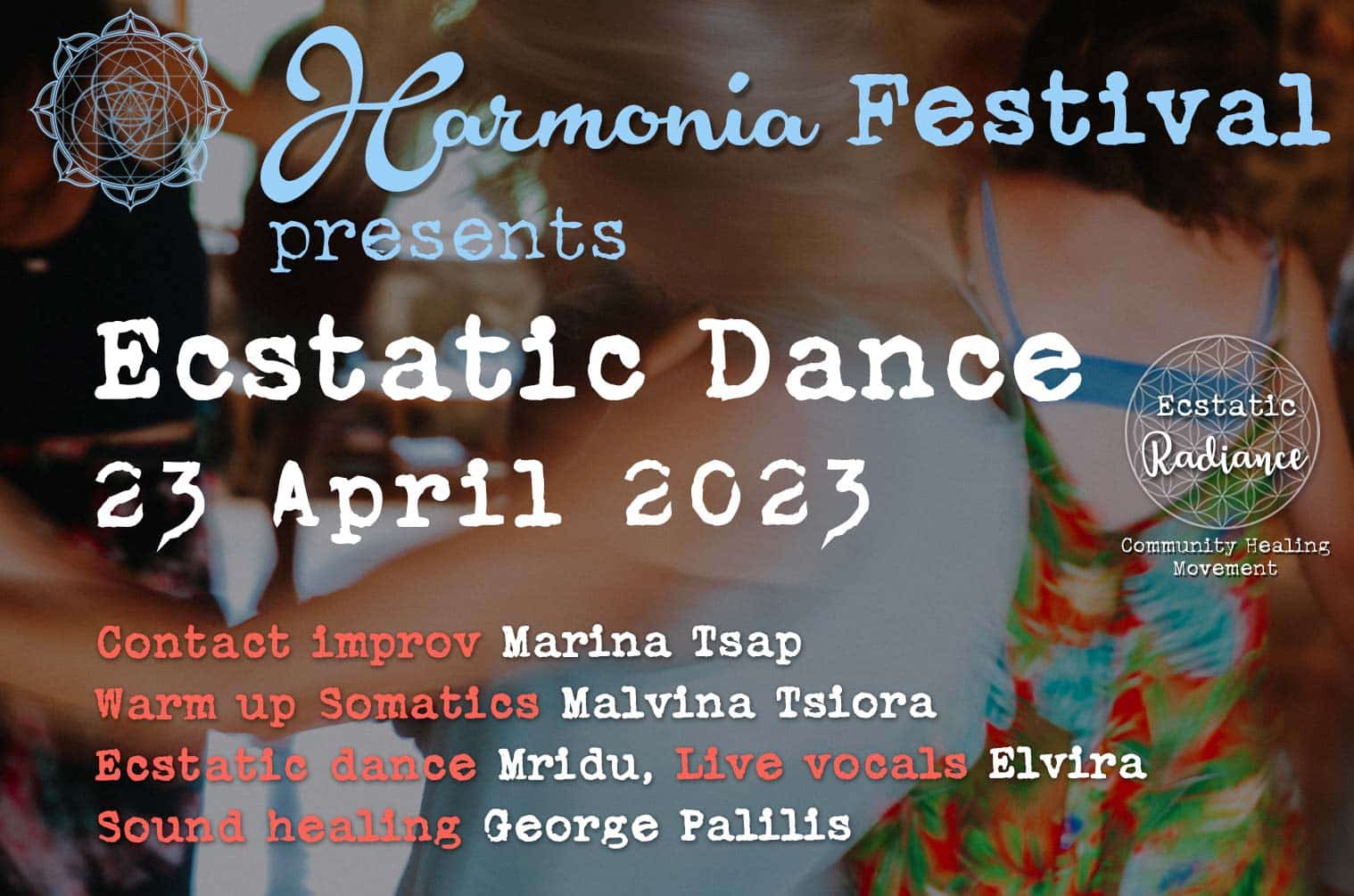 Harmonia Festival presents 🧚‍♀️ Ecstatic Dance Celebrating New Connections
We are celebrating our last event in Athens before moving to Lesvos Island for the summer season; we open the space for sharing with our Athenian family. This time we are adding our focus to this winter's new connections and meetings; the Ecstatic Radiance team welcomes new friends on the path and co-creates with them.
Welcome to experience the magic !!!
💥 Ecstatic Dance with Ecstatic Radiance team & Invited guests !!!
👯‍♂️ Contact improv Marina Tsap
🧚‍♀️ Warm up Somatics Malvina Tsiora
🔥 Ecstatic dance Mridu
🎼 Live vocals Elvira
🔔 Sound healing George Palilis
🕐 Schedule
➡️ SUNDAY, April 23, 2023
🔺 18:30 – 19:30 Contact Improvisation Class
🔺 19:30 – 20:00 Doors open for Ecstatic Dance & warm-up
🔺 20:00 Opening Circle with Mridu & Malvina with Somatics Technics
🔺 20:20 – 22:20 Ecstatic Dance with Mridu
🔺 22:20 – 22:40 Sound Healing Journey
🔺 22:40 Good Bye
📌 Location: Case de Arte Kabeiria Irakleidon 74, 118 54, Metro Station Kerameikos
💡 Price 15€ for Ecstatic Dance & Price for Ecstatic Dance & Contact Improvisation 20€
Contact and participation at connect@ecstaticdance.gr
❗️(If someone has a financial problem, send us a message connect@ecstaticdance.gr everyone has the right to dance)
🐰 The Event is family-friendly (kids 11 and younger dance for free!) Always accompanied and supervised by parents.
🔥 About Ecstatic Dance
Ecstatic Dance is a community gathering that encourages freedom and expression through dance. Join us and experience a safe and inspiring space to dance without talking, alcohol consumption or the general nightclub vibe. This is about self-expression, freeing your body and mind, and connecting with yourself and those around you.
Ecstatic Dance empowers people from all walks of life to freely express themselves, regardless of shape, size or background. The liberating atmosphere creates a melting pot of acceptance, while the fearlessness with which people move gives newcomers the courage to dance without inhibition.
💥 About Contact Improvisation
Contact is more of a movement experience involving the body and mind in interaction with other people than a dance technique or form. It began to be developed in the early 1970s by charismatic dancers, scholars, and one might say, scientists and philosophers, of movement and life, such as Steve Paxton, Nita Little, Daniel Lepkoff, Nancy
Starksmith..
💥 Warm up inspired by somatic technics
Α warm up of body, heart, and space, inspired by somatics technics. Through visualization and poetic images, we will dive into a movement meditation allowing us to sink into ecstatic dance.
✅ Bring with you:
@ Bottle of Water
@ Second T-shirt and warm clothing for cool down
@ Loose clothes for dance
See you on the Dance-floor
💥 Ecstatic Radiance
Community Healing Movement
➡️ https://bio.site/ecstaticradiance
https://www.facebook.com/ecstaticradiance/
https://www.instagram.com/ecstaticradiance/
https://soundcloud.com/ecstaticdance-radiance
FB event: https://www.facebook.com/events/879992243298213
Facilitators
Elvira Stalos

Elvira Stalos

Maria-Elvira Stalos (Lyra) has been involved in singing and music for years in choral ensembles, live performances, musical improvisation and shamanic music circles. She has been involved in Electronic Music Production for 3 years and is preparing the release of her first projects in the coming months.

George Palilis

George Palilis

Fresh from Vienna after living 19 Years, now in Hellas(GR) and spreading further the magic of Music and Sound healing, the way i have learned it. Healing happens when art and beauty apply. I have Studied Electronics and Music Production, I also study Sound healing and now into alternative healing methods, and Yoga.
I work as a DJ for around 15 years, Sound engineer, and since 2020 i practice Sound healing and do private sessions and play live, Sound Journeys at the end of Yoga classes and Ecstatic Dances, in Vienna and small Festivals. Music is the Divine Art.

My "Sound Journey" is a Hybrid session of Live played music Flute, Thong drum Bowls Gongs and other instr. played with electro-acoustic instruments and studio recordings i ve done to create an ambient space. A live music improvisation, each time a little different.
Using a combination of just simple instruments floating around the place of the event, as well as amplified sounds through speakers carefully to reach a bigger audience, offer the magic of frequency vibration. I Usually work with Instruments Tuned into 432Hz, both electronic and acoustic, as a matter of personal taste.

Malvina Tsiora

Malvina Tsiora

Malvina Tsiora comes from the world of Visual Arts. She graduated from the Fine Art School of Athens from the Painting department(2017). During her academic studies, she had six months of training at the ArtEZ University in Netherlands at Performance art and painting (2014).
Since her graduation, she works as a freelance artist, participating in art exhibitions in Athens and islands in Greece while organizing artful and educative workshops for kids. At the same time she is interacting with groups, seminars and training related to Somatics, Contact Improvisation, Movement meditations, experimenting with body movement techniques in the base of Performance and Physical theater, supporting informal and independent ways of education in art, and life, in Greece and abroad:

studied Meisner technique at the Theater of Changes with trainer O.George (2018)

Followed training course related to "Community building through Systemic Theater" hosted in Milan by Casa per la pace Milano, project Partners Tres Social and trainer Emma Luque. (2019)

followed training course about movement meditation ,in the base of yoga, dance, and kung fu by Surya Soul Academy in Mallorca, Spain. (2021)

studied dancing and physical theater techniques, based on Jaques Lecoque's methods, at «Plefsis» studio in Athens and teacher A.Κoutroubis. (2022)

followed trainning course on devised theater «Synthesizing embodiment and frequency configuration» at Ον Οff studio in Athens and trainer the musician/composer/performer, N.Stamatogiannopoulou (2022)

participated in a three months seminar circle «ΣΥΝΑΣΚί» based on fifteen different body movement techniques and practisies (Alexander technic, Rolfing, Feldenkrais, Frankline, Skinner, BMC e.tc.) with coordinator the dancer and practitioner of Alexander technique , G.Paizi (2022)

participated at «Contradictions» seminar of physical theater based on Grotowski's methods and teacher the actor and director, Μatej Matenka. (2022)

took part in «Ηuman Mandalα» trainning course, exploring tracies of art to discover body emotions (art therapy,photography, juggling, story telling), hosted in Italy and with project coordinator Nuova Destinazione. (2022)

is part of « Fabrica» art place/theater collectiva based in Athens and with facilitator-teacher Fanis Katehos (2023)

followed training about interpretative arts,based on methods of Self With Others inspired by group Ensemble (collectiva DUENDE) , with project coordinator and trainer/ performer Thekla Gaiti (2023)

Participating in a training of three circle/stages related to «Verbal movement-breathing anatomy -tensegral voicework» and teacher the practitioner of Alexander technique, Georgia Paizi.

** 2017 has joined for weeks meditations and extatic dance at AFROZ , Osho's meditation center on Lesvos Island in Greece

Marina Tsapekou

Professional Dancer

Marina Tsapekou is a graduate of the professional school Aktina as well as the Department of Philology of the University of Athens (EKPA). The main interest of her practice lately is improvisation and contact improvisation.

She has collaborated with Agni Papadeli-Rossetou, Tzeni Argyriou, Teti Nikolopoulou, Romeo Castelucci, Marina Mascarell, Thanos Papakonstantinou, Penelope Flouri, Ioanna Paraskevopoulou, Amalia Kosmas, Persa Stamatopoulou, Erifuli Dafermou, Androniki Marathaki, Niko Kalyva and others. She has participated as an artist in residency at the festival in Ai Stratis, through Tandem Europa.

Marina has taken part in international festivals (Arlequi, Danseu, ConnectLab) and in numerous seminars in Greece and abroad. He teaches contemporary, improvisation and contact improvisation. He is a member of the collective M54 _ Underscore and the music and dance group Dirty Granny Tales.

Mridu

Founder of Ecstatic Radiance

Mridu is the founder of Ecstatic Radiance – a Community Healing Movement. At Ecstatic Radiance, together with friends, he co-creates & shares the gift of healing and self-development. Meditation & awareness is the base of Ecstatic Radiance with an opening to all directions and healing modalities, always with deep respect and love towards any form of life.

He is a Mentor & Trainer of (FSTU) From Separation To Unity – Heart Consciousness Evolution. FSTU is a healing system that arose intuitively and aligns with the latest scientific research into Heart Consciousness.
He was born in Greece; In 2007, he visited the Osho Afroz Meditation Center, where he met a new way of life through Meditation & healing. He fell in love with the conscious way of living and working with people.

All his work effort comes down to a single line of using different modalities as a vehicle to open the body/mind and access deeper spaces of consciousness, joy, presence & healing: a vision & a way to transform the individual conditioned human into a holistic, conscious being.

He has trained in Osho Meditative Therapies ( Mystic Rose, No Mind, Born Again ), Biodynamic Breathwork BBTRS, Tantra, Osho Active Meditations, and Sound Healing, and he is a Reiki Master.